Here in New England real maple syrup is one of the joys in life. It's also an early harbinger of spring, since sap tends to flow best when the daytime temperatures get above freezing but the nights are still reliably below. Join us as we visit some of Litchfield County's sugar houses and take a peek — and, of course, a taste.

April 2, 2009 Blossoms. When they appear the flavor of the maple sap changes and the season is over. These are from an early tree, but the end is near.
March 13, 2009 Flanders Nature Center offers maple demos Saturday and Sunday 1-4 PM, and a maple celebration event 1-4 PM on Saturday March 21st.
March 6, 2009 After a week that's been way too cold for sap to flow, finally, a warm front. Now's the time to visit a sugarhouse.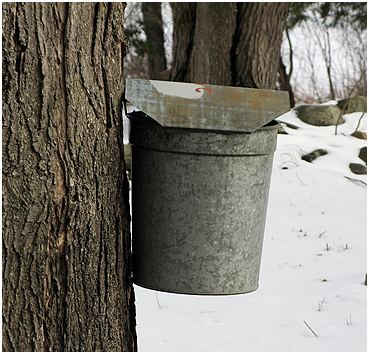 March 3, 2009 The "other" ingredient — wood to fire the evaporator.
February 26, 2009 Peeks of sun following snow marked the passage of a warm front. It prompted some to finally tap their maples — a sure sign that spring is on the way.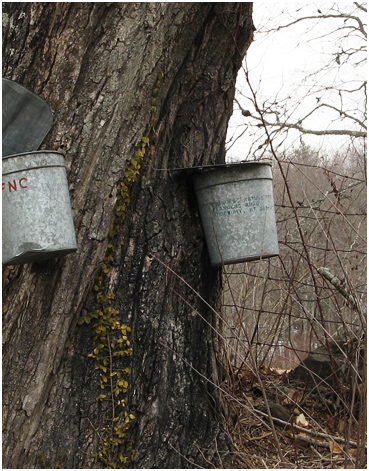 More pictures from the 2008 season archive.
April 11, 2008 The budding of maple trees signals the end of usable sap for syrup. It's time to collect the buckets and enjoy the fruit of this Spring's labor. Most sugar houses continue to welcome visitors, so you can still bring home some of this year's syrup. Call ahead.
March 9, 2008 A fine row of old maples, with traditional metal sap pails, near the Brookside Farm Sugar House in Litchfield, Connecticut.
Mark Harran grew up making maple syrup on a farm in upstate New York. Today he continues with a sugarbush of 500 trees.
The hot glow of the high-efficiency, oil fired burner.
Mark reports good quality and quantity this year.
Visitors are welcome. Call ahead at 860-354-0047.

March 9, 2008 Lou Berecz uses a hydrometer to test the sugar content of the syrup at the Woodbury Sugar Shed.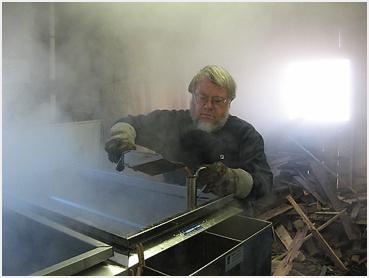 It's ready to be filtered.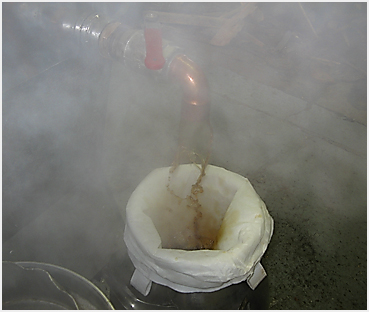 Lou tapped at his usual time, around Valentines day, this year and reports good quality sap.
He'll be boiling sap from some 3,500 trees every Saturday and Sunday afternoon through the first week of April. You can check ahead at 203-263-4550.

March 6, 2008 As the steam heads up and out...
Bill Akins mans the evaporator at the Flanders Sugarhouse in Woodbury, CT.
The folks at Flanders tap about 150 maples, all of them the traditional way with hanging pails.
The sugarhouse, part of the Flanders Nature Center, offers free demonstrations through mid-March (no reservations required on weekends.) 203-263-3711

March 4, 2008 The Great Brook Sugar House at Sullivan Farm in New Milford.
The wood-fired maple syrup evaporator works on sap from a sugar bush (a forest stand of primarily sugar maple) of over 1,000 trees.
Sap — bubbling away. It takes over 30 gallons of sap to make one gallon of syrup.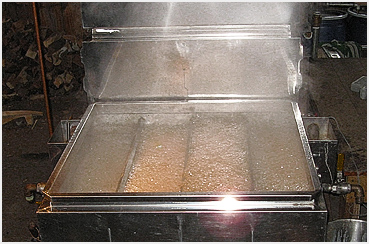 The Sullivan Farm offers programs on the history, facts, and folklore of maple syrup — showing how syrup was made in colonial times and the Civil War period as well as today. 860-354-0047
Back to the Litchfield.com home page.